Child Safe Organisations December 2019 e-newsletter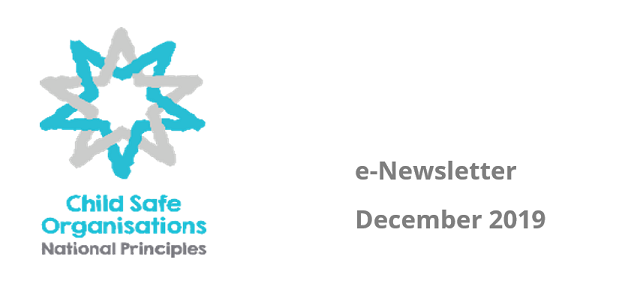 Year in review
As we approach the end of 2019, this newsletter highlights some key milestones for Child Safe Organisations and other children's rights work completed by the National Children's Commissioner.
19 February 2019
As part of the Government's response to the Royal Commission into Institutional Responses to Child Sexual Abuse, the Prime Minister announced that the Council of Australian Governments endorsed the National Principles for Child Safe Organisations.
The Royal Commission found that many organisations in Australia failed to protect children from abuse, failed to listen to children who tried to disclose abuse, and failed to respond appropriately when abuse came to light. To help ensure that this does not happen again, the National Principles aim to provide a nationally consistent approach to creating organisational cultures that foster child safety and wellbeing across all sectors.
The Australian Human Rights Commission developed and launched the Child Safe Organisations website featuring an introductory video and practical tools to help organisations to implement the National Principles. The practical tools include an introductory self-assessment tool, guide for parents and carers, charter of commitment to children and young people, and example code of conduct.
The National Principles, introductory self-assessment tool, and guide for parents and carers are available in Mandarin (simplified), Mandarin (traditional), Vietnamese, Punjabi, Filipino/Tagalog, Hindi, Korean, Arabic, Italian and Greek.
21 August 2019
The National Children's Commissioner launched the Child Safe Organisations e-learning modules to help organisations increase their knowledge and understanding of the National Principles and identify steps they need to take as they work towards implementing the National Principles. They are freely available on the Child Safe Organisations website.
The e-learning modules are designed to help people working or volunteering in all organisations that engage with children and young people – including organisations of various sizes, across all sectors in Australia. The modules have a particular focus on the importance of respecting children's rights and the connection between child voice and child safety.
The modules use real-life scenarios to explore the key aspects of each National Principle and how they can then be applied in organisations. For example, the module on National Principle 9 provides information about why regular reviews are important for child safe organisations and users are asked to consider the importance of this principle in the context of a playgroup at a community centre.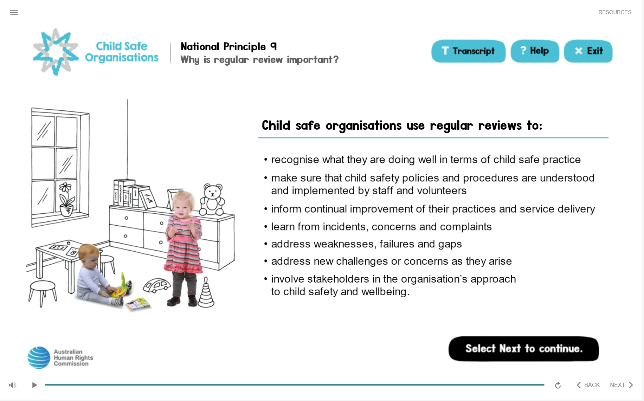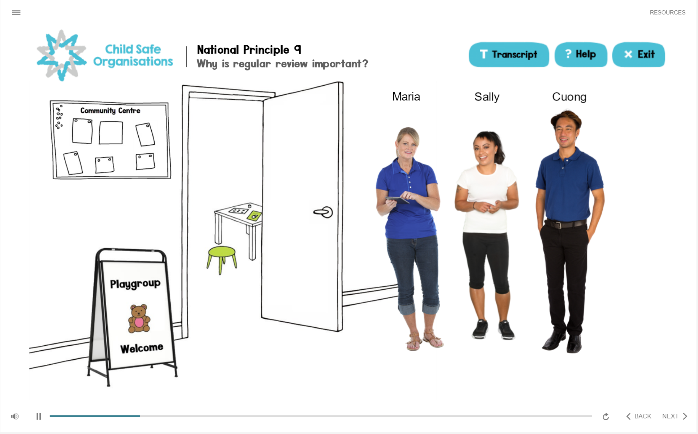 Former Socceroos captain, broadcaster and human rights advocate, Craig Foster, was the keynote speaker at the forum to launch the modules. Craig emphasised the importance of everyone in sport needing to reflect on whether we have created an environment in which children feel able to voice their concerns when they feel uncomfortable. "So let us be leaders, then, to move forward in a positive way from a process that shocked us to our core. We let down so many children whose right to the fullest realisation of their potential was compromised. We need to ensure that we look after our little ones, let them grow, prosper and excel. Whether within sport, or without," he said.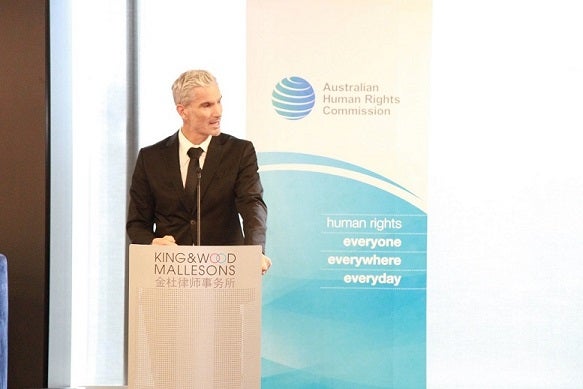 20 November 2019
This year, Universal Children's Day coincided with the 30th Anniversary of the United Nations Convention on the Rights of the Child. At the CRC30 Conference to celebrate this occasion, the National Children's Commissioner released Children's Rights in Australia: a scorecard, assessing outcomes for children's rights across Australia.
The scorecard calls on the Federal Government to develop a National Plan for Child Wellbeing and to appoint a Cabinet level Minister with responsibility for driving children's issues at the national level, including Aboriginal and Torres Strait Islander children, children with disability, children in care, children in rural and remote locations, those from culturally and linguistically diverse backgrounds, and LGBTI children. The scorecard addresses also children's rights in relation to immigration detention, the importance of a clean environment, homelessness, health and an adequate standard of living.  It also makes clear that more needs to be done to support the mental health and emotional wellbeing of young people, and that support needs to be provided earlier in children's lives.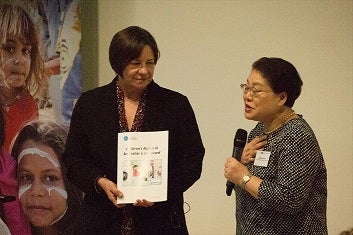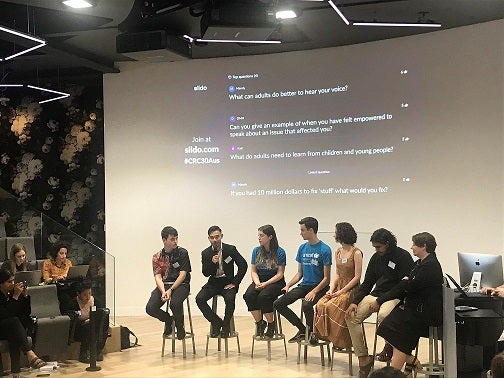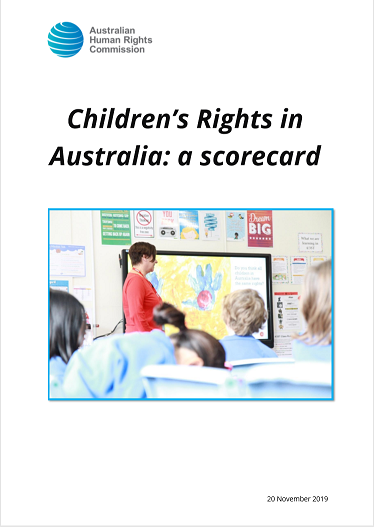 Join us for the 2019 Human Rights Awards
Each year the Australian Human Rights Commission are proud to recognise the outstanding contribution of individuals and organisations in promoting and protecting human rights and freedoms.
Join us in celebrating this year's finalists who have advocated tirelessly on issues such as refugee and asylum seekers' rights, gender equality, Indigenous and LQBTQIA+ rights, and aged care. With an esteemed list of finalists across all nine Award categories, don't miss this opportunity to hear from some of Australia's leaders in human rights advocacy.
Ticket sales close on Friday 6th December, so grab your tickets today!
The Awards will be celebrated at The Fullerton Hotel, Sydney (formerly the Westin) from 12-3.30pm with a two-course meal and alcoholic/non-alcoholic beverages included.
Looking forward to 2020
The National Children's Commissioner will launch her statutory report, the Children's Rights Report 2019 'In their own right: Children's Rights in Australia' in February 2020.